What exactly is SwitchBot Hub Mini?
SwitchBot Hub Mini is pretty much what it says it is. A hub (now a mini one) that enables you to connect your smart devices and appliances together around your home and allows you to connect to devices not just by using Bluetooth, but also via the cloud. You can also streamline everything into one app and control devices with ease. You could say Hub Mini is the heart of your SwitchBot home, aww.
What is SwitchBot Hub Mini used for?
SwitchBot Hub Minihelps you automate devices and gives you that all-important remote access. What's more, you're also able to control devices by using third-party services like Alexa, Google Assistant, Siri, and more.
If you've never heard of or used Hub Mini before, here are a few examples of how you can use it:
1. App or voice commands with SwitchBot Hub Mini to control your TV/AC.
2. App or voice commands with SwitchBot Hub Mini and SwitchBot bot to control switches throughout your home.
Step 1. Install SwitchBot App and sign up SwitchBot account.
(If you are a SwitchBot user already, please skip this step.)
Launch the App and tap "Sign in"on the left side menu.
Step 2. Authorize the Bluetooth and location services on your phone.
Then tap "Add Device" in the App, and choose "Hub Mini".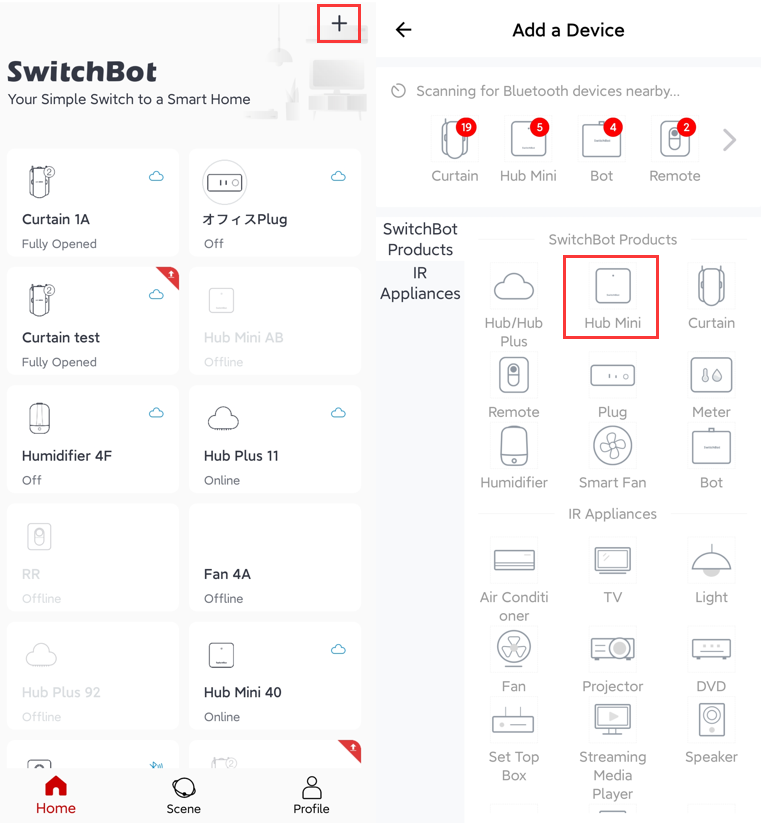 Step 3. Press and hold the button on top of Hub Mini until the indicator flashes and then tap "next." And input SSID and password. (note: 5G Wi-Fi is not supported for now). You can change the device name at the same step.
Tap "OK" after you set up the Wi-Fi. Now you can see your SwitchBot Hub Mini on the App's homepage. Enjoy!
Tips:
If you need to change your Wi-Fi SSID, please tap the gear icon of the Hub Mini and edit it in advanced settings.
Please link the Hub Mini to a 5V*1A USB adapter before use.